When it comes to home design, many of us only think about the interior of the home. Updating appliances in the kitchen, upgrading the master suite bathroom, or changing the floor plan for more open space in the home. But a Metke Remodeling and Luxury Homes exterior home design remodel will give the outside of your home the same level of attention.
It's much more than updating the siding of your home or changing out the windows–although that does play a big part when improving the curb appeal of your home. We look at the age of the home, the architecture, and the existing structure to design an exterior that gives your home a modern look or to return the home to its original look as part of a whole home remodel.
It all starts with you. Maybe you bought the home because of the location, the size, or the layout of the home knowing you'd renovate the exterior as part of a complete remodel. Or perhaps you've been in the home for a decade or two and it's just time to give the homestead a facelift inside and out.
Portland Exterior Luxury Home Remodeling
Regardless of the reason, our home remodeling design-build team will work with you to come up with a plan that will give your home the updated home exterior design you desire as part of a whole home remodel. We take into consideration any factors that will play a role in the design. We also look at your budget and find materials that fit both your needs and wants.
Remodeling the exterior of your home is one of the most cost-effective ways to increase the value of your home and makes a lot of sense as part of a home remodel. Updating the siding of your home is a great way to give your home an immediate upgrade while installing new entry doors and even garage doors can give your home's value a bit of a boost to the bottom line.
But it's not just about the value of the home, but the value of you being comfortable in your home. We'll work closely with you, taking your ideas, wants, and desires and applying them to our design. Ultimately, this is your home–and we want to give you a home that you're proud to call your own. This is achieved through our design-build process.
Exterior Home Design Build Process
Metke Remodeling and Luxury Homes will meet with you for an initial home remodel meeting. You'll tell us what you're looking for and we'll discuss different designs, materials, and even colors to help bring clarity to your thoughts. A tour of your home will give our builders the information they need to bring your ideas to life.
This is an important aspect of the design-build process. So often, designers and even architects may not take the codes, regulations, or even physics into consideration when creating a look for your home. Metke Remodeling and Luxury Homes bring both sides of the construction coin together under one roof to create a cohesive unit that improves communication and reduces unwanted surprises.
Portland Outdoor Kitchen Builders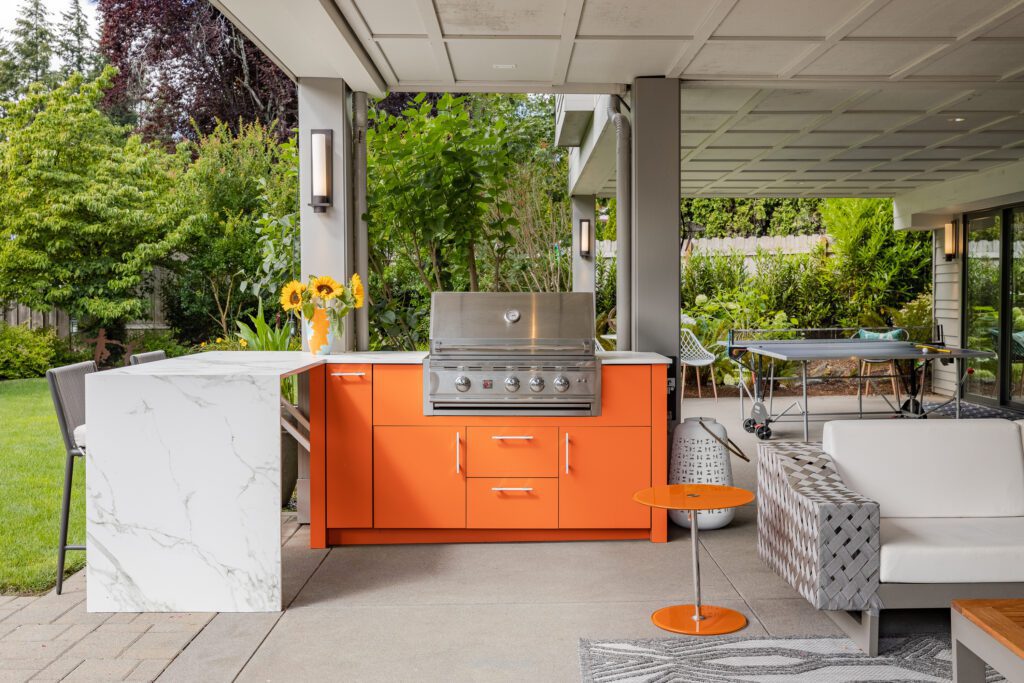 Today, an outdoor kitchen is much more than a grill on the back patio. With a range of countertops, cabinets, sinks, and appliances made specifically for outdoor use, you can bring the heart of the home to the outdoor living area you're creating. Metke Remodeling and Luxury Homes exterior home design-build teams help you discover just what's possible.
Want to incorporate a fire pit, heat lamps, or a big-screen TV into your outdoor living space and cover the whole area with an upgraded cover that matches the rest of the home? Our design-build teams will give you an exterior entertainment area that will make your home the gathering place for watching Fall football games, enjoying Summer BBQs or swimming pool, or enjoying hot chocolate outside during holiday family gatherings.
Exterior Home Design: Landscaping
Part of the fun of an exterior home remodel is finding the perfect landscaping to compliment the new look of your home. Flower beds, shrubs, pavers, and other materials complete the look and feel of the exterior of your home. We'll incorporate existing landscaping, add outdoor exterior lighting, and give your home a cohesive look that will delight friends, family, and other guests all year round.
This is what separates Metke Remodeling and Luxury Homes exterior home remodelers from other firms: We take an overview of your entire home during a remodel. From giving you an exterior entertaining area, wowing guests with an elegant, oversized front door, or making passing motorists slow down just a bit to get a better look.
We treat the exterior of your home with the same level of expertise and care as we would the inside of the home. It not only needs to look fantastic, but the siding, roofing, and even the gutter systems are the first lines of defense against the true four-season weather we get in the Pacific Northwest.
Our exterior design-build services give you the perfect marriage of form and function. If you're thinking about an exterior upgrade or interior design services, for your home, reach out to Metke Remodeling and Luxury Homes and let our designers walk you through everything that's possible to make the home of your dreams a reality.