Kitchen Remodels From The Experts At Metke
At Metke Remodeling & Luxury Homes, we like to say that our work elevates the art of the home. This mantra is perhaps best illustrated by our portfolio, which we encourage you to peruse, paying special attention to our kitchen remodels. They represent just a fraction of the kitchen remodel work we've done throughout the Portland metro area. Metke Remodeling & Luxury Homes award-winning Portland kitchen remodel services are second to none.
     
When one has been in business for a long time — as Metke has — and one has been fortunate enough to work with a number of passionate clients — as Metke has — portfolios seem to come together like magic, forming a cohesive whole. Of course, it's not magic; it's expertise — borne of long years of dedication, hard work, and a commitment to craft and customer service that underlies everything we do.
Our Exquisite Remodeling and Design Work
It's one of the reasons we've become one of the most decorated design and remodeling firms in the country. It's also why clients return to us, again and again, to engage us in the redesign and reimagining of both the inner and outer spaces of their homes. Our work spans as many styles and materials as the locations we service. Whether it's a kitchen remodel in Lake Oswego — our home base — or a kitchen remodel in Tualatin, we're ready to build for you and with you.
Drive a little farther south, and you're still in the service area of Metke Remodeling & Luxury Homes. So if you've searched for kitchen renovation in West Hills & kitchen remodels in West Linn or kitchen remodels in Wilsonville — or beyond! — we'll bring our expertise to you. Let's get started! We'd love to introduce you to our team and explain the details of our Design-Build Process. We'll get things rolling as soon as you get in touch, with a plan to meet at your home for the initial stages of the project. We'll discuss ideas and objectives, and we'll give you an estimate for design and construction plans.
Let's Build Your Dream Kitchen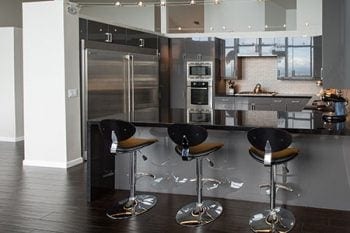 What does your dream kitchen look like? Does it have an island centered between contrasting cabinets and countertops to utilize as you entertain guests? Stainless steel accents and a specific and unusual subway tiles backsplash?
Perhaps you prefer custom cabinetry or open shelving. With our master carpenters on board and at your disposal, there's no limit to design ideas that will delight and satisfy. Solid surfaces for cutting and dicing, pendant lights for mood, wood cabinets, farmhouse kitchen sink, quartz countertops, and finishing touches to bring it all together …
Your kitchen remodel ideas become our projects — from the floor to the upper cabinets, we're your interior designer, carpenter, and installer all in one. Contact Metke Remodeling & Luxury Homes today.