Everyone eventually ends up in the kitchen. Either to grab a cup of coffee, have something to eat, or just to sit and talk–maybe that's why they call the kitchen the heart of the home. But what if the heart wants to spend some time in the sun? Custom outdoor kitchens are a great way to expand the living area of your home.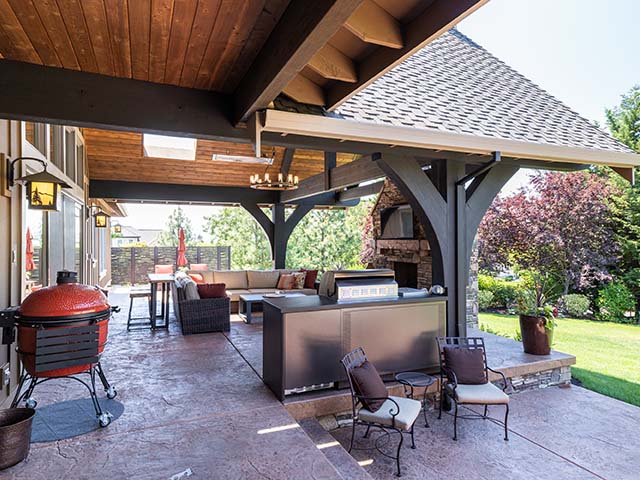 Cooking outside used to mean firing up a stand-alone grill on the back patio and then bringing the food back inside to enjoy. As more and more homes begin to install dedicated gas lines for outdoor grilling, high-quality custom outdoor kitchens are becoming more popular.
Bring the Party Outside with a Custom Outdoor Kitchen
Enjoying the outdoors doesn't have to be relegated to those warmer (and drier) months of the year, either. With our custom designs, we can include partial or complete coverage for your outdoor kitchen, windbreaks, and even fireplaces. Imagine comfortably enjoying your hot cocoa as snow falls just inches away.
Year-round use of your custom outdoor kitchen area will make it seem like you've added square footage to your home. Outdoor cabinets and countertops don't have to look like they're made for outdoor use, either. The area can be as luxurious as you want while still being able to handle true four-season weather.
Want to watch the game while cooking up burgers and brats or create a cozy area for family game nights al fresco? Our customization options give you the opportunity to reach for the stars with a custom outdoor kitchen area. You may never want to go back inside!
Custom Outdoor Kitchen Designs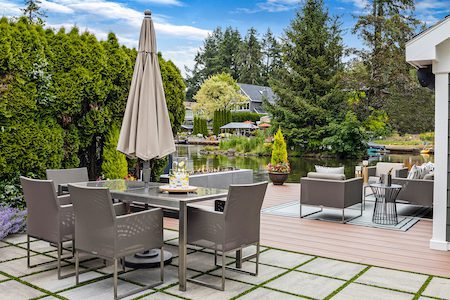 As a design-build firm, we first meet with our clients to find out exactly what they need for their dream outdoor kitchen to become a reality. Will it be a full kitchen with running water, cold storage, and heat lamps for year-round enjoyment? Or a large outdoor living space with enough room to hold gatherings for family and friends.
Perhaps you'll need a custom-built deck to handle all of your requests, with access to the rest of the backyard. To ensure everything you want is attainable, you meet with our design teams and our builders from the start. This helps us answer any of your questions as well as remove surprises that may pop up during the build process.
When we custom build an outdoor living area, we strive to give you all the comforts of indoor living you want. We completely customize your outdoor kitchen when possible and meet all local codes and regulations. Your custom outdoor kitchen will be a perfect example of form and function with our design-build process.
Complete Your Outdoor Living Area
We seamlessly integrate your custom outdoor kitchen into the rest of the exterior of your home, including any other outdoor features you may have. Whether it's a pool area with a changing room, workshop, or another outbuilding, your kitchen will look like it's always been a part of the property.
Or maybe your outdoor kitchen is part of a complete exterior overhaul. We design-build your home's exterior as well as the rest of the outdoor area to give you an updated and cohesive overall look. Whether it's building terraces for a sloping yard or simply improving the landscaping with lights and watering solutions, our designs will make you the envy of your neighbors.
Work With Experience
With decades of experience in both design and construction, Metke Remodeling and Luxury Homes. We take a "big picture" look at your project and keep the lines of communication open throughout the job. We find our design-build process is the best way to get everyone on the same page and a more efficient job site.
Many of our projects come through referrals as we come highly recommended by former clients that have become friends. The relationships we've built have lasted years because of the quality of our work and we deliver on our promises. We've also been recognized by our industry on many occasions for the quality of work.
In addition to custom outdoor kitchens and exterior work, we also perform luxury remodels for kitchens, master suites, and whole home remodels as well as additions. When we're finished, it's as if your home always looked that great! Thinking about giving your home an uplift–on the outside or the interior? Reach out to Metke Remodeling and Luxury Homes and see how we can impress you!