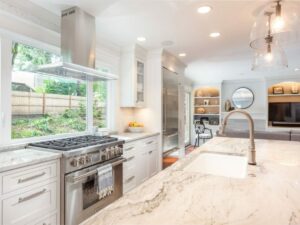 The kitchen is often referred to as the heart of the home, where families come together for meals or friends gather during get-togethers. Whether it's used for preparing meals, a place to graze during parties, or where family members come together to talk about the day's events over dinner, the kitchen is the center of attention.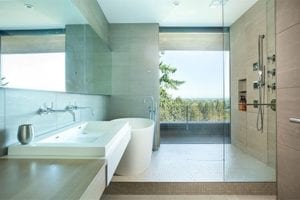 Bathrooms, on the other hand, offer a peaceful refuge from the day-to-day grind. From energizing your mornings with a warm shower and a comfortable place to get ready for the day to soaking in a tub to melt away the stress. A well-appointed master bathroom is an oasis for those looking for a break away from the hustle and bustle.
Portland Kitchen and Bath Design
While the two play very different roles, both are essential when it comes to making a house a home. As such, when Metke Remodeling and Luxury Homes talks about "Elevating the Art of the Home," we understand the vital importance of each room. From the layout to the color palette to the materials we choose, we take a holistic view of every kitchen and bath design-build we do.
This starts with a conversation with you. No two kitchen and bath designs are the same because no two homeowners are the same. We take the time to listen to your wants, your needs, and your desires and take that information to heart. We want to give your kitchen and bath design the look and feel you deserve.
However, interior design is only half the battle–although it is the most visible half. We ensure all of our designs are backed by years of engineering and construction experience. Metke Remodeling and Luxury Homes ensure all of our designs are meant to stand the test of time, as well as meet all jurisdictional codes and requirements.