Guest Blog
Engineered wooden floors are known for being highly durable, cost-effective, and easy to install. They also require very little maintenance and will significantly increase the home's equity. Wood flooring comes in many different styles, so you can easily get a design that matches the current style of décor in the room.
You don't necessarily have to go for a consistent style around the house; it is possible to try out different trends for different rooms. Let's look at some wood flooring trends you can use in your house.
Wood Flooring Trends for the Living Room
Engineered wooden floors are a classic and popular choice for living rooms. These floors are timeless and can be coordinated with any type of living room décor. It is worth noting that people spend a lot of time in their living rooms, and the warm nature of wooden floors can make the space more comfortable. Wood is considerably more comfortable than harder flooring options like ceramic tiles, stone, and laminate. You can even add area rugs to make the floor warmer.
If you don't want to spend a lot of time choosing a wooden floor for your living room, you can go with the long floor planks. These have been growing in popularity and can conveniently go with any living room décor style. These floor types also make it easier to integrate a consistent style across multiple rooms since they create a sense of visual continuity.
Long plank flooring is especially useful in bigger rooms because it creates a sense of width and space and may really open up a space. Few designs can showcase the inherent qualities of the wood as effectively as long plank flooring, and there is a simplicity to this type of wood flooring that is both fulfilling and visually beautiful.
If you want the space to stand out, you can consider going for a herringbone style for the wooden floor. You will find it easier to simply pick a neutral tone, but warmer colors would also work properly when used with decorative elements. These are composed of rectangular wood blocks, also known as staves, that have been placed in a geometric zigzag pattern to resemble fish bones.
Kitchen Wood Flooring Trends
Wooden floors are also great for the kitchen as they are highly durable and can easily last for decades. Using wooden floors in the kitchen will also raise the value of your home. A good rule to follow is to use the same type of flooring for the living room and kitchen. This will help to maintain consistency in the house and will maximize the durability of the flooring.
However, if you have an open-plan kitchen, you can make the space unique by choosing a different wooden flooring design. Just make sure that the floor is able to withstand the kitchen environment. A great example here would be the long floor planks.
Bathroom Wood Flooring Trends
Engineered wooden floors can work in many different bathroom settings, including luxury designer bathrooms and functional en-suites. These floors can resist movement and would, therefore, work perfectly with changes in moisture and temperature. The multi-layer board of such floors makes them incredibly robust and stable, and this is a key reason why engineered wooden floors are becoming popular in bathrooms.
Since the bathroom environment usually features a lot of humidity, it would be better to go for materials with an oiled finish. When selecting the color, you should go for something neutral. If your bathroom walls are a lighter color, you can pick a darker one for the floor.
Wood Flooring Trends in the Bedroom
Many people consider their bedrooms to be the most important room in the house. We spend a considerable portion of the day in this room, so there is no reason why you should neglect it when choosing excellent floors.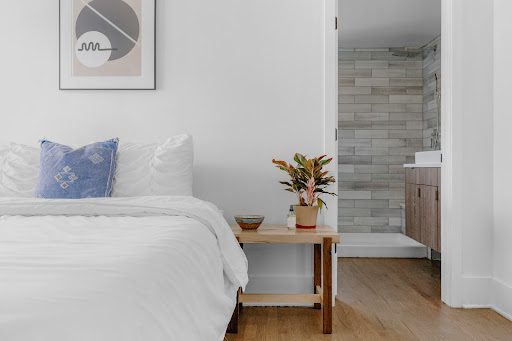 Carpets have been extremely common in bedrooms, as they make the floor warmer and add a sense of comfort to the room. However, carpets tend to make the room feel enclosed and collect a lot of dust, hair, etc.
With engineered wood flooring, you will be able to open up the space while keeping the floor warm. You can also use area rugs to add warmth and softness to the surface. Wooden floors can stand the test of time, and that makes them a great long-term solution.
You can pick wide planks for the bedroom floor, and try to go for lighter colors as they will work well with decorative elements. To make the space more elegant, you can choose styles like herringbone, chevron, or Versailles panels.
Seeing as we have explained what long planks and herringbone styles look like, let's envision how Chevron and Versailles panel flooring would look in your home.
The Chevron pattern makes use of a herringbone-like zigzag pattern. They do, however, differ and are set down more uniformly to form a genuine point rather than in a staggered arrangement. Chevron flooring's regularity results in a simpler and cleaner appearance.
Within a wooden frame, the Versailles panels are composed of squares held together by what appears to be an interlaced mesh of wood strips.
The orientation of the grain is another significant aesthetic feature.
The grain runs in one direction in "regular" wood flooring planks, two ways in herringbone and chevron, three directions in mansion weave, and at least four directions in Versailles panels.
This makes the pattern more intricate and causes the light reflections to change as you go around the floor, which may be why many think of it as such a luxurious flooring type.
Underfloor Heating Systems and Engineered Wood
Although other types of floors are commonly used with underfloor heating systems, they don't work as well as engineered wooden floors. The engineered types are becoming more popular with these heating systems because they are designed with base layers that expand and contract with the daily changes in temperature.
This strength and stability prevent the floor from moving when such changes are experienced. You should note that an engineered wood floor looks just like a regular solid wood floor, and the top surface is even made from the same solid wood.
Conclusion
Engineered wood flooring is becoming trendy in new homes and renovations. This is because it delivers the same benefits as solid wood floors and doesn't move when temperatures change.
This type of flooring is also highly durable and will last for a very long time. You can use engineered wood flooring in the living room, kitchen, bathroom, and bedrooms for up to 50 years.
Although many people like to go with a consistent design throughout the house, you can pick different types for different rooms.