Luxury Home Builders in Lake Oswego, Oregon
From the first on-site meeting to turning over the keys to your new home, Metke Remodeling & Luxury Homes opens doors to endless possibilities. Working with our custom home builder contractors, you can create the highest quality luxury home in Lake Oswego. Whether you're building your dream home or remodeling your forever home, we're here for you.
Built on a reputation for excellence unparalleled in today's luxury home market, our designers and remodeling contractors come highly recommended. We work closely with you, or partner with your designer and architect, to help you create your dream home. Our design-build teams deliver on your desires.
Lake Oswego Design-Build Contractors
Metke Remodeling & Luxury Homes is a local team of remodelers, designers, and craftspeople that helps homeowners achieve their goals with a construction method called design-build. Our design-build process brings together the right elements at the right time and ensures that everyone is on board to make that happen seamlessly.
With the Metke Design-Build process, you'll never have to worry about multiple points of contact during the building or remodel process. From the first consultation to the final punch list, you'll work with our in-house team. . This does a great job of saving money, cutting down miscommunications, and ensuring deadlines are met and goals achieved.
Whether it's creating an open floor plan between the kitchen and living room, moving the laundry room to a different floor, or any other luxury home improvement, you'll receive the same dedication from our team. If it's worth doing, it's worth doing with excellence.
Meticulously Designed Home Additions
Adding on to your house should achieve more than just increasing floor space. A home addition should enhance usability, comfort, and beauty while complementing your home's existing features. But, to make sure all the right ingredients result in something extraordinary, Lake Oswego homeowners turn to remodel contractors with a reputation for elevating the art of the home.
The Metke Remodeling & Luxury Homes commitment extends beyond just the homes we build or massive remodeling projects. You're not just a number to Metke: We're dedicated to creating lasting relationships with our clients while improving the quality of life in the communities that we serve.
Professional Kitchen Remodeling Lake Oswego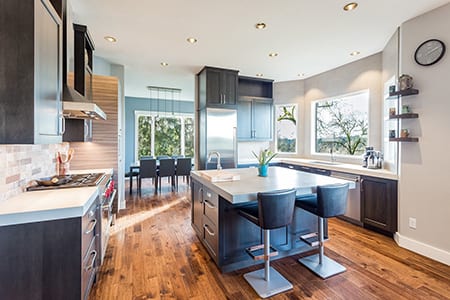 There's a lot that goes into a kitchen remodel – cabinets, countertops, plumbing, lighting, flooring, finishes, and appliances. Not to mention understanding different kitchen designs that work together. For more than three decades, the kitchen professionals at Metke Remodeling & Luxury Homes have been crafting custom kitchens in Lake Oswego that have left our customers ecstatic.
From image to completion, our team of design-build experts has all of the experience, craftsmanship, and knowledge available to you to create your dream kitchen. And with our roots in carpentry and fine woodworking, your kitchen cabinets and built-ins can be crafted 'in-house' on your request.
Before you start going to showrooms and shopping for new appliances, talk to a Metke professional first! We will listen to all of your ideas and design concepts, offering expert advice, and eventually coming up with a plan to get your project underway.
We understand how important it is to have a functional kitchen – it's the heart of the home! We'll establish a timeline, from demolition to completion, to make sure you don't have to spend any more time away from the heart of your home than absolutely necessary.
Luxury Bathroom Remodeling Lake Oswego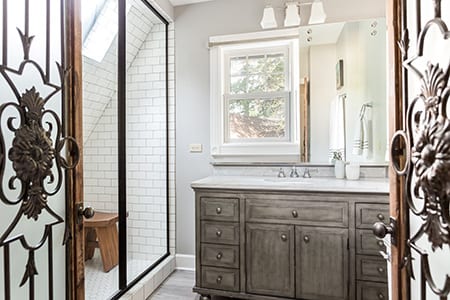 Everyone wants their bathroom to look amazing. With big, beautiful tubs, grand showers, the most fantastic tiling, and details, it's all there in your mind. Metke Remodeling and Luxury Homes in Lake Oswego is here to bring it to life. We'll create a master suite for you that will be the envy of all who see it.
No matter what style you are looking for, bright and straightforward or sophisticated and glamorous, we want to create the bathroom remodel of your dreams. Our dedication to knowing and understanding what you're looking for in a remodel helps us deliver exactly what you want.
This is where the design-build process really shines. We're able to stay on time and on budget during kitchen and bathroom remodels because we know exactly what it takes to turn dreams into reality. Staying in close contact with our suppliers, we can tell you when the marble you want will be ready and how long it will take to import that clawfoot tub you've been salivating over.
Experienced Luxury Builders
Our background as expert woodworkers and carpenters, the relationships we've cultivated over decades of work, and dedication to elevating the art of the home allows us to enhance people's lives through the transformation of their home. Our high quality of work, attention to detail, and open lines of communication from start to finish have made Metke Remodeling in Lake Oswego the number one choice for a luxury remodeling contractor.
When you choose to work with Metke Remodeling and Luxury Homes, know that you're choosing an award-winning contractor that truly values your opinion. We've been honored time and time again in trade magazines and recognized by national industry associations as well as right here in Oregon. Both for our projects as well as how we conduct ourselves as a business.
This may be the largest investment you ever make and having a home the way you want is important for you and your family. You can trust your Lake Oswego home and the comfort of your family to Metke Luxury Homes. We look forward to building a relationship with you that will last long after we've driven the last nail and applied the last coat of paint.